Reason 1:
Our Ultimate Commitments to Make Top-Grade Tea Leaves
"Minister of Agriculture, Forestry and Fisheries Award"
winners are with us.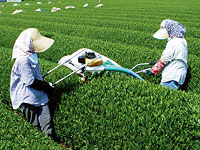 In order to produce extremely good tea leaves, we select tea farms with extremely good conditions of water, soils and fertilizers. One of our fresh tea leaves producers is Mr. Seiichi Miura. He received a "Minister of Agriculture, Forestry and Fisheries Award" at Mature Tree Section of The National Fair of Tea. His commitment to his tea making process is highly valued.
Reason 2:
Our Extreme "Pickiness" to Use Top-Quality
Fresh Tea Shoots Only!
Only top-quality tea shoots that are plucked carefully by hand. The secret truth of our new tea, "Shinryoku" - "Dark Green"
We are also particular about our ingredients - tea leaves. "Shinryoku" (Dark Green) is the best among the top quality tea leaves in the market. We use only young sprouts that just bud in the beginning of spring to make the finest Shizuoka tea. This is the new tea that we pluck carefully by hands in order to make our taste out of only the finest sprout of purity. We use only the finest newly-plucked tea leaves that are soft and plump. The leaves gain full nourishment from the land where nourishment is accumulated from fall through winter. Please enjoy the taste and flavor of our best chosen newly-plucked tea.
Reason 3:
Direct Shipments from Our Plantation
Make Our Tea Exceptionally Fresh!
We are so proud to introduce our special factory system that enables our customers to enjoy the tastes of our fresh teas.
We designed our plantation according to our management innovation plan that was approved by the governor of Shizuoka. With the help of our vertically integrated plant (First in our industry), all the processing is done at one plantation. We make "aracha" (dried tea leaves), package fresh leaves and merchandises out of aracha all at one place. This plant was once featured in a newspaper and it gathered many attentions. We seal the newly-picked fresh leaves in packs at our factory and deliver them directly to our customers.
Click here to learn about our factory
Reason 4:
Exceeded 5 Million Product Sales a Year!
Many of Our Products Are Very Successful!
Many customers come to buy directory from us. This is proof that we are satisfying our customers' demands for tastes and prices.
Most of our customers purchase our tea leaves continually. Some of them purchase a box full of fresh tea leaves every time. A number of major supermarkets and merchandisers keep asking us if they can develop their private brands out of our tea leaves. We deliver more than 400 thousands of our tea merchandise every month to our customers. Our tea merchandises is enjoyed by numerous people. This is proof that we are providing exemplary taste and reasonable prices to our customers.