We are capable of implementing all the business operations that are needed to produce products, and sell teas and taking hold of the decisive processes of creating added values. Our professionalism is not limited to producing excellent tea leaves. We want to provide the excellent taste of top quality teas that are reliable and affordable. This is the reason we care so much about the maintenance and improvement of our tea factory.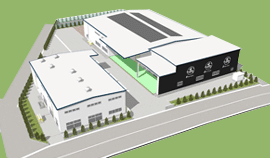 Overview of Our Head Office and Factory
Completed: on March 30, 2009
Total area: 4749.25m2 (1436.6 tsubo)
Building area: 1713.63m2 (518.4 tsubo)
Head office and factory area: 1236.91m2 (374.2 tsubo)
"Aracha" factory area: 476.72m2 (144.2 tsubo)
* Quality management system ISO9001 (2008) certified
(It is a vertically integrated factory – completed under our management innovation plan that was approved by the governor of Shizuoka prefecture)
Truth revealed! Did you know how complex it can be to produce tea?
Genially, Most tea manufactures purchase "aracha (dried tea leaves)" cooperative. It is a semi-finished product. From there All they need do is make aracha in to products. Groups of tea farmers and agricultural cooperative organizations are the ones who make "aracha," the semi-finished products state. The process of making fresh leaves into "aracha" and that of making "aracha" into tea products are usually divided. It is often the case that those two different processes take place at different factories. Tea farms → "aracha" manufacturing factory → tea products making factory → sales.
Those four steps are necessary before tea products are delivered to customers.
Birth of the tea industry's first factory made under the management innovation plan which was approved by the governor of Shizuoka prefecture
Our management innovation plan was approved by the governor of Shizuoka prefecture and we installed the industry's first vertically integrated factory for our company. This factory is capable of doing all the production processes from processing fresh leaves to packing products in bags within one plantation. Because of this factory, we could reduce the price of tea leaves, and shorten our production time, so we are now able to make top quality teas. We hope that our customers can enjoy more fresh and delicious tea with a more affordable price. We understand the feelings of our customers and that is the reason we strive to meet their expectations.
3 Merits of Our Vertically Integrated Factory
We are able to set affordable prices for our high quality teas because of the following merits.
Merit 1: Our integrated production system shortens time for productions

Merit 2: Our dedicated work in all the production processes

Merit 3: No complex intermediate distributions to avoid higher prices(no middlemea)
For more details, please visit "Our efforts" section.
Please find out more about our reliable production abilities and facilities
Aracha productions: 800kg of aracha/1 day
Tea products production process: multiple machine produce 1500kg daily, in set, 2000kg×2 sets, 500kg×1 set
Packing machines (for tea packages): 1,000 packages/1 hour, 8,000 packages/1 day, 2 million packages/1 year (250 days)
Packing machines (for wrapping papers): 900 pieces/1 hour, 7,200 pieces/1 day, 1.8 million pieces/ 1 year (250 days)
Our Production Capacities
Aracha productions: 800kg of aracha/1 day
Tea products production process: multiple machine produce 1500kg daily, in set, 2000kg×2 sets, 500kg×1 set
Packing machines (for tea packages): 1,000 packages/1 hour, 8,000 packages/1 day, 2 million packages/1 year (250 days)
Packing machines (for wrapping papers): 900 pieces/1 hour, 7,200 pieces/1 day, 1.8 million pieces/ 1 year (250 days)
Our Facilities and Work Environments
Tea component analyzers: by using this analyzer, we quantify the main components objectively and output data.
Internal management system: This original system manages our processing flows collectively from producing fresh leaves to manufacturing and sales.
Received ISO9001 (2008) – a quality management system certificate: We look for further quality improvements by improving our business continuously.
Scintillation survey meter - HITACHI-Aloka: Conduct inspections of radioactive materials to all lots
Solar power systems installed: We are committed to keeping a good global environment