"Minister of Agriculture, Forestry and Fisheries Award" winners: Mr. Seiichi Miura and Mr. Yoshinobu Miura from Kanetou Miura Tea Garden
~ Good Soil Makes Good Tea ~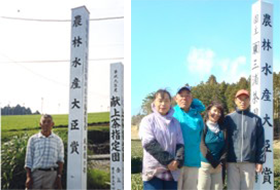 [Profile]
Mr. Seiichi Miura and Mr. Yoshinobu Miura
Kanetou Miura Tea Garden of Shimada City in Shizuoka Prefecture
Mr. Seiichi Miura and Mr. Yoshinobu Miura started cultivating tea in early the Showa era and built a tea factory of their own in 1953. They have been harvesting tea leaves at their own farms and factory since then.
Keeping the phrase "Good soil makes good tea" in mind, they are making good soil and good tea with gentle cares. They are now winners of the "Minister of Agriculture, Forestry and Fisheries Award" which they received at Shizuoka Prefectural Tea Plantation Land Expo (Both the father and his son received the award).
They are so well known as harvesters of high quality tea leaves that they are also assigned as the owners of tea farms that are dedicated to tea cultivation for the Imperial Family of Japan.
◎ It's great that you have received "Minister of Agriculture, Forestry and Fisheries Award". Would you please tell us about the characteristics of your tea?
There are roughly two ways of raising a tea tree, "gaju type" and "gasuu type." We are a little closer to the "gaju type" in raising tea leaves at our plantation. In the "gaju type," we reduce the number of buds that grow on tea trees. This way we can take care of each bud more carefully so that buds can be extended well toward the top.
◎ Would you please tell us why you are able to produce tea leaves of such high quality?
At our plantation, we carefully raise tea trees with a plan to make thick and strong stems when the freshly planted young plants become trees. Although we use mainly organic fertilizers to raise tea trees, this misty land itself is the most suitable piece for growing tea leaves. Since many factors are all put together to make fine tea leaves, we are tending carefully to every single tree. I believe that our stewardship of the trees is going very well.
◎ I heard you have a special skill at creating good soil. Could you please explain about your ability?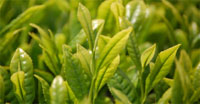 Good fresh tea leaves make good teas. Good tea trees make good fresh leaves. Good soil makes good tea trees. We strive to make good soil with great care, with this philosophy "good soil makes good tea" in our mind. It is very important to make good soil. We make good soil by putting organic substances like weeds, straw, and oyster shell during the fall and winter for fertilizing and reselling.
◎ You are working with nature as you produce tea leaves. Do you find it difficult?
Conditions to raise tea trees change every year. We may have late frosts or low temperatures in springtime, or fierce heat and water shortages in summertime. There is a chance that we get different results even if we raise our tea trees the way that we did before (same fertilization, pest control, and plucking);.Therefore, the way of raising trees has to be adjusted every time carefully by checking the weathers, tree conditions as well as soil conditions. We are, indeed, making tea leaves with great care.
◎ The view of this huge tea farm area is so beautiful!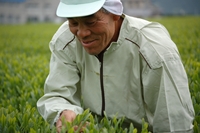 At first plucking seasons, buds come out very beautifully and it looks like a yellow and green carpet covered over our tea plantation. We can enjoy sweet scents when we go to our plantation in harvest season. You can taste its sweetness even if you eat them fresh. This season makes me feel good.
◎ Would you please give a message for those who taste your tea, Mr. Miura?
Historically we, as Japanese people, are closely related to tea as the word "nichijyosahanji (meaning "daily occurrence" by using Chinese characters which mean "every day", "tea", "rice" and "occurrence")" implies. Since tea has been attracting many people's attention, as a healthy drink, I will continue to take great care and produce excellent quality tea so that many people will be able to continue enjoying them."
Shimoyui Tea Agricultural Cooperatives
"Manpower and machine-power are essential for producing excellent teas and handling with care"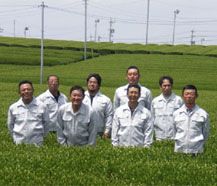 [Profile]
Shimoyui Tea Agricultural Cooperative - Shimada City in Shizuoka Prefecture
In March 1985, 14 tea farmers' groups joined us as they agreed to our Philosophy, "Face our nature and protect the tastes of our Shizuoka teas". At an early stage, the cooperative received "T-GAP" which certifies that they are highly reliable Shizuoka tea producers whose productions of teas are stable and safe. They are truly a cooperative of tea producers who manage tea qualities at high levels.
◎ Please tell us about positive aspects of tea leaves that are being raised at your plantation.
Our tea plantation is located in the southern part of the Ōi River which produces fertile at the and is endowed with the best conditions for raising tea leaves. We made plantations of the "gaju type" in order to make fine deep-steamed green teas. We lecture people about autumn trimmings. These are very positive aspects of our plantation.
◎ Do you take any special actions that no one else can take?
Yes. 80% of our plucking is done by riding machines. With the help of those machines, we can pluck each leaf in equal conditions and reduce the time for harvesting so that tea leaves can be kept fresh. Those machines are very helpful in making the excellent tastes of our teas.
We also produce by the traditional original methods with manure. We fertilize the lands well as we check the balance of weather and soil temperatures and fertilize with organic fertilizers so that tea leaves can absorb fertilizer components efficiently. We are also making efforts to increase the number of watering equipment to give suitable amount of water to tea trees during summer when the land easily gets dry.
◎ I believe you are utilizing manpower and machine capacity very well.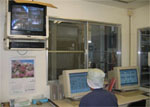 Machines are necessary to raise tea leaves with great care. We have installed an EC sensor which enables us to implement a quality control by checking the state of fertilizers and water on computer screens.
◎ Would you please give a message to our consumers?
Since a group of Samurai with their leader Kageaki Nakajo began planting tea leaves on this land (with people of the occupation named "coolie crossing a river on foot" )in the last days of the Tokugawa shogunate, tea making has become our culture. We strive to make great teas for our consumers to enjoy, its mild taste and refreshing color of deep steamed teas.